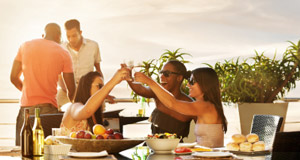 The Island Grillstone was ultimately born out of a passion for grilling.
Made of naturally porous volcanic rock and cut to fit most barbecues, its unique properties allow the Island Grillstone to hold the natural flavor, moisture and nutrients, while preventing barbecue flare-ups that cause charring. The ancient techniques of stone grilling are combined with the luxuries of a modern barbecue to create a healthy, even and clean cooking accessory.
The Island Grillstone allows you to get the most out of your barbecue. No more food marinades or sauces slipping through the grill. Just a pure, beautiful sear and an island experience you can taste, again and again.
Interested in learning more? Feel free to get in touch. We'd love to hear from you!