Finally, cleaning you can enjoy! Just flip
and watch your BBQ do the work.
The Island Grillstone™ barbecue accessory can be seasoned like any cast iron pan. Over time, a shiny black patina will cover the surface of the Island Grillstone™. This natural coating enhances flavor and provides a non-stick coating when foods are cooked over high heat. Once the Island Grillstone™ has been seasoned, it should not be cleaned with soap or the flavor enhancement and non-stick properties will be lost.
STEP 1
Cook
Go ahead and cook the most delicious and messy meal you can think of without having to worry about the cleaning you'll have to take on afterwards.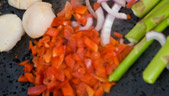 STEP 2
Flip
Once you're done cooking, simply flip your Grillstone. The heat of the BBQ will cook off any residue and get you ready for the next time you use your Grillstone.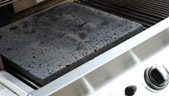 STEP 3
Repeat
And that's it! Who knew cleaning could be that easy?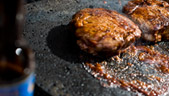 This method will also create a natural non-stick coating that enhances the flavors of your cooking. Every time you use your Grillstone, the flavors get better and better!