Make us a successful part of your business.
Versatility. Performance. Flawless Grilling, Every Time.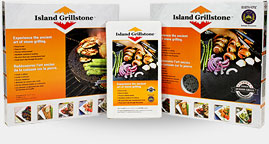 The Island Grillstone opens the door to an entirely new way to experience your grill. "Flawless Grilling, Every Time" is not just an empty marketing tagline but a completely true statement — a return to the way things used to be when ancients practiced stone grilling. Indeed, everything about the Island Grillstone is different. Once your customer understands this, experiences the versatility, and tastes the difference in their grilling, we create a powerful connection that reinforces your store's commitment to equip customers with uniquely exceptional grilling accessories, and keeps them coming back for more.
So get to know the Island Grillstone™. Try it out. Then share your enthusiasm. Your customers will love you for it.
Looking for wholesale pricing info?
EMAIL US
Merchandising Tools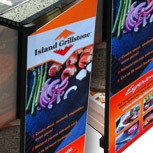 Metal Display Racks
Our Island Grillstone Metal Display Rack is a sturdy construction wireframe rack made available to all wholesale buyers. The Rack comes in two sizes: 18" x 18" x 68" (holding 10 Grillstones and 18" x 18" x 36" (holding 5 Grillstones).

Email us for more information »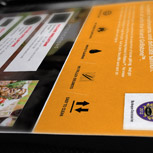 Interior & Exterior Signage
Looking to draw in-store traffic to your Island Grillstones? Or want to bring the product to a tradeshow or local community event? We'll have you covered, with a wide range of Interior & Exterior Signage options to meet your needs.

Email us for more information »
Free Sample Product for Demonstration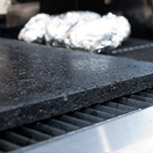 Give the Island Grillstone a Try
We are happy to provide complimentary product for sampling to prospective wholesale customers. The Island Grillstone really needs to be experienced to be truly appreciated, and we want to make sure you have that opportunity!

Email us directly to request sample product »
Recipes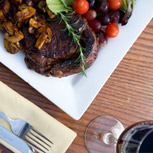 Getting Started with Stone Grilling
The Island Grillstone opens the door to a whole new way of grilling. Of course, with anything grilling-related, the food takes center stage. We've provided a great (and growing!) recipe list overflowing with ways people explore using their new Island Grillstone. Share the recipes or print them off so you don't need to take the computer outside! Also, we're always posting new recipes on our site and in our social media channels. So, if you haven't already, be sure to like us on Facebook!

Browse Recipes »

Like us on Facebook »