Seasoning the stone for years of enjoyment
The Island Grillstone™ barbecue accessory can be seasoned like any cast iron pan. Over time, a shiny black patina will cover the surface of the Island Grillstone™. This natural coating enhances flavor and provides a non-stick coating when foods are cooked over high heat. Once the Island Grillstone™ has been seasoned, it should not be cleaned with soap or the flavor enhancement and non-stick properties will be lost.
STEP 1
Wash & Clean the Grillstone
Before initial use, wash the Grillstone with soap and water. Allow it to dry completely. We promise you — this will be the only time you'll need to do this!
STEP 2
Brush with Olive Oil
Cover the entire surface of the Grillstone with olive oil. Make sure it is completely covered.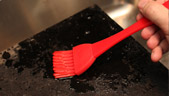 STEP 3
Place on Cold Grill
Carefully place the Grillstone on a cold grilling surface, ensuring the surface is level.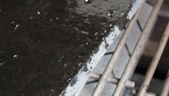 STEP 4
Fire it Up
Ignite the barbecue. The easiest step!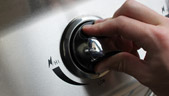 STEP 5
Achieve Cooking Temperature
Allow the barbecue to reach outdoor cooking temperature. Be careful not to heat the Grillstone too quickly, which may cause it to break.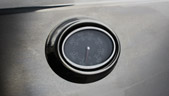 STEP 6
Cook!
Pull out your favorite ingredients and enjoy the evenly tempered, flavor-locking Grillstone. .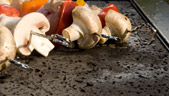 STEP 7
Turn Barbecue Off
Both the barbecue and Grillstone cool completely. Be careful — Grillstones retain heat so you'll want to keep flammable objects away from the hot Grillstone.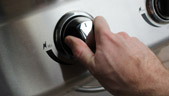 STEP 8
Flip the Cooled Grillstone
Turn the fully cooled Grillstone over. The surface is now ready to use the next time. Time to get grilling!